Are the
Chicago Bulls
EVER going to finish off their roster? What's a
Chicago Bulls Blog without juicy Chicago Bulls Rumors
?!? :) With only twelve players under contract, you have to assume at least one or two more players will be added, but rumors from weeks ago, such as us looking at
Antawn Jamison
, have entirely died down and nothing new has arisen.
Maybe Tom Thibodeau's motif for the season is "Defiance", as he plans to RAISE all players minutes instead of nursing them? Certainly wouldn't surprise me. So while there is so very little going on in Chicago Bulls News these days, with training camp still five weeks away, I did enjoy some new Bulls articles I thought I'd share and give my take on.
In case you missed it, six SB Nation columnists put together their
NBA top 100 list for the year 2017
and you'll be happy to see four of our Chicago Bulls listed in the top 63. That's a pretty good showing when projecting four years down the road....and it looks fairly realistic as well.
Derrick Rose #5
Jimmy Butler #58
Joakim Noah #62
Nikola Mirotic #63
The only players ahead of D. Rose were
Kevin Durant
,
Lebron James
,
Russell Westbrook
and
Andre Drummond
. Of course it's WAY too soon to say Drummond, with only one year in the NBA so far, is going to be a top four player, but then again...a piece like this is pure speculation over concrete facts. It's plenty easy to argue with most of the list...that really is the point of it.
Many of the players on that list have not stepped foot in the NBA or they've only shown the big (P)otential. Several players listed haven't even played a college game yet, but It looks like I'm not the only one
showing some major Jimmy Butler bandwagon issues
, even with just a small sampling size to go off of. Having Buckets at #58 was mad respect if you ask me, though I expect him to even eclipse that mark.
Interesting to note...
Luol Deng
was not in the top 100. For that matter, where was
Carlos Boozer
?!?!? I'm only partially kidding. If you're wondering if these writers have any Nostradamus in them, they performed the same exercise in 2011 when they predicted the
Top 99 players of 2015
. It is on this list that you will spot Deng and Boozer.I guess two years later they don't envision much staying power for either of them.
Nostradamus The Great
We're only sitting here in 2013 with two years to go still...but on their 2015 list you will see D. Rose again at #5, Joakim Noah at #24(a rather strong/bold prediction in 2011), Deng #64 and Boozer #76. It also has Austin Rivers at #14...so on that note we can probably move on now.
Speaking of praise for J-Bux, the respected Kelly Scaletta of the Bleacher report had a piece on the
Top 10 Defensive Shooting Guards in the NBA with Jimmy Butler ranked #2
!
It's really worth flipping through the slides of the top 10...especially to get to the write up on Jimmy Butler, whose strength, speed, size, effort, athleticism and intelligence are through the roof according to Scalletta.
What I like most about this article is that Scalletta breaks down his rankings on a categorical scoring system with thought-provoking data to back it up. Here are two of my favorite parts on his write up for Jimmy Butler:
" When Butler was the starting shooting guard, the Bulls were 9.7 points better on defense. Not only is he one of the best on-the-ball defenders in the game, effectively guarding LeBron James, Kobe Bryant and Carmelo Anthony at various times, but he's also an outstanding help giver who can lock up anyone 6'9" or under."
and
"Some people probably don't realize just how athletic Jimmy Butler is, so to put things in perspective, consider this. His sprint speed (3.15) and vertical (39") are nearly identical to John Wall's (3.14 and 39"). That puts him in the category of "freakish athlete." The only difference is Butler is three inches taller."
NICE. Go check this article out to read his
scoring and reasoning behind the entire list
:
10. Monta Ellis
9. Lance Stephenson
8. Kobe Bryant
7. Klay Thompson
6. Danny Green
5. Dwayne Wade
4. George Hill
3. Avery Bradley
2. Jimmy Butler
1. Tony Allen
As I've said a few times on here, what I'm most excited about for this upcoming Bulls season is seeing
Jimmy Butler start for 82 games
. I believe the Bulls would have won 5-10 more games last season with him as the starter...even without Derrick Rose. Call me Bulls Batty, but a healthy Deng, Noah, Boozer, Butler, Hinrich, Nate Robinson and Marco Belinelli, with Butler STARTING, would have taken the Heat to seven games in the second round last year. If you felt cheated not having the chance to see that, I'll invite you to our next therapy session.
ATTENTION BULLS FANS:
Do you CRAVE NBA Players in action?!?

Are you struggling to make it to October 5th to see the Bulls first preaseaon game with D. Rose in uniform against division rival Indiana Pacers?!?
Do you have an even harder time waiting on prized Euro-possession Nikola Mirotic playing for the Bulls a year or two from now?!?
WELL HAVE I GOT A DEAL FOR YOU!
Here's your chance to see superstar Lakers legend
Kobe Bryant
square off against Chicago Bulls future star Nikola Mirotic
on September 27th in Dubai.
BUT WAIT....THERE'S MORE!
Have you dreamed of the chance to see Kobe Bryant throw a lob to...that's right...SOULJA BOY?!??
Soulja Boy
I mean...WHO HASN'T?!?! And now you can, as Kobe Bryant apprarently is hosting a celebrity exhibition game for Diabetes Awareness, and while the celebs have yet to be announced, Soulja is confirmed to be one of them.
On 9.27.13 in Dubai, "Team Black Mamba" will face up against Real Madrid, one of the best teams in all of Europe AND the team Bulls future star
Nikola Mirotic
laces them up for(along with former NBA player Rudy Fernandez).
Better call the airlines and reserve your tickets now! This has a "Drago Kills Apollo Creed" exhibition vibe written all over it, with Kobe dancing around with Soulja Boy until it's too late and he realizes Mirotic came to end him.
I can see Nikola reading this at home right now and channeling his "Inner-Drago" saying, "If He Dies, He Dies". BRING IT, Nikola!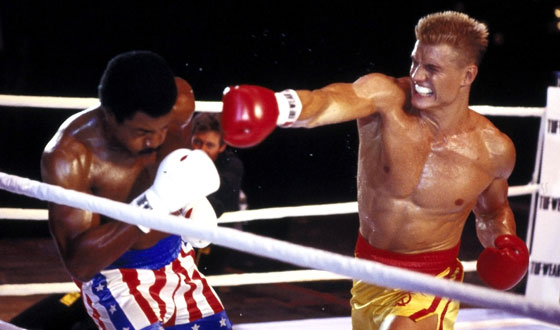 Drago Destroys Apollo Creed in an "Exhibition Match"
Lastly, for those of you still mourning the loss of the original Bulls "Bench Mob", two of the crew have been
reunited in Houston, as Omer Asik and Ronnie Brewer
will bench mob it together for the Houston Rockets. Their bench group will be called "Rejected Retreads" and it will fail miserably, mainly because Dwight "Franchise Killer" Howard is now their teammate. Enjoy your reenactment of
The Titanic men!
Five weeks and counting still....take deep breaths and think pleasant Bulls thoughts.
GO BULLS!!!